Having to scroll through and scan all of the Lists in your People account is not the end of the world, but it is also not the most efficient way to find the list you want.
The time you spend scrolling and scanning is also time, however short, you could be spending on the people in the list you are trying to find.
Small amounts of time add up to big chunks, and we want to give you as much time as we can, so similar to what we did with Workflows, Lists can now be organized by Campus and Category.
Organizing Lists
When you go to create a new list you will now see two new dropdowns in the List Settings sidebar on the left-hand side.
Click the dropdown buttons and then select the category you want to assign to your new list. If your church has campuses configured in Accounts, you'll see an option to assign a campus here as well.
If you want to change your Category options, click Manage List Categories. On this new page, you can edit existing categories by clicking on the little pencil on the right, or type in the name of your new category and click Create Category. When you create this new category, it will be shared by all other administrators in your account.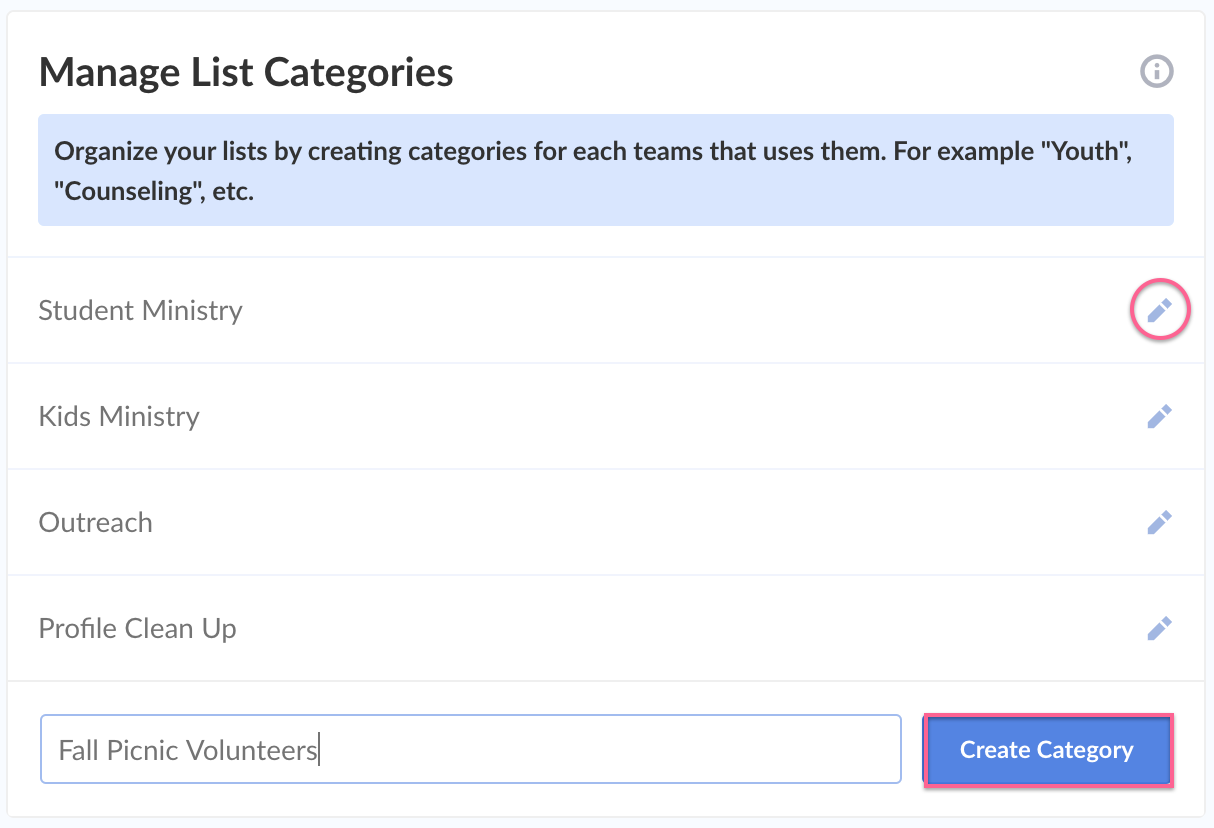 If you have a myriad of lists you use on a regular basis and want to organize with the new system, you can! Click on the list you want to update and navigate to edit the Rules of the list, then follow the same steps above to assign a category or campus to a new list.
Sorting
With the addition of the Campuses and Categories feature, the main Lists page looks a little different.
At a glance you can see the campus and category assigned to individual lists in the grey bubbles on the right-hand side.
You can also quickly sort your lists by campus, category, or both from the left-hand sidebar. If you still want to search for a specific list, you can type a keyword in the search bar on the top, but no more scrolling through and scanning every list to find the one list you want!
We hope this new method of organizing Lists will help you focus on what you are trying to accomplish with the people in your Lists, not trying to find them!