Last week we released Services 3.5 for iOS and Android, which now includes the ability to attach files to Songs and Media from your mobile device! You can upload your own files or link to files on the internet. We've also added the ability to edit or delete existing files.
Add Files
You can now attach files to Songs or Media from within the app, or when viewing supported files in other apps, using the Share button.
From the Services App
From within the Services app, navigate to a song, arrangement, or media item, and switch to the Files tab. If you are an editor, at the bottom you'll find a new Add File button.
After tapping to add a file, you'll be presented with options to choose a file from your device's File browser, take a photo with your camera, choose a photo from your photo library, or attach a link to a file on the internet.
Once you've chosen your file or link, you'll be taken to the File Details screen where you can confirm where you'd like to attach your file. You can attach files to media, to a song (making it available for all arrangements), to a specific arrangement (making it available to all its keys), or to just one specific key within an arrangement.
After you tap to upload your file, feel free to leave the Services app, as uploading will continue in the background.
From other Apps
You can also upload most files directly from many other apps. When viewing a file, if there is a Share button, select it to see your device's sharing options. If you see the Services icon in the list, tap it to send the file over to the Service app. You'll be taken to the File Details screen described above, where you can choose the location to attach the file.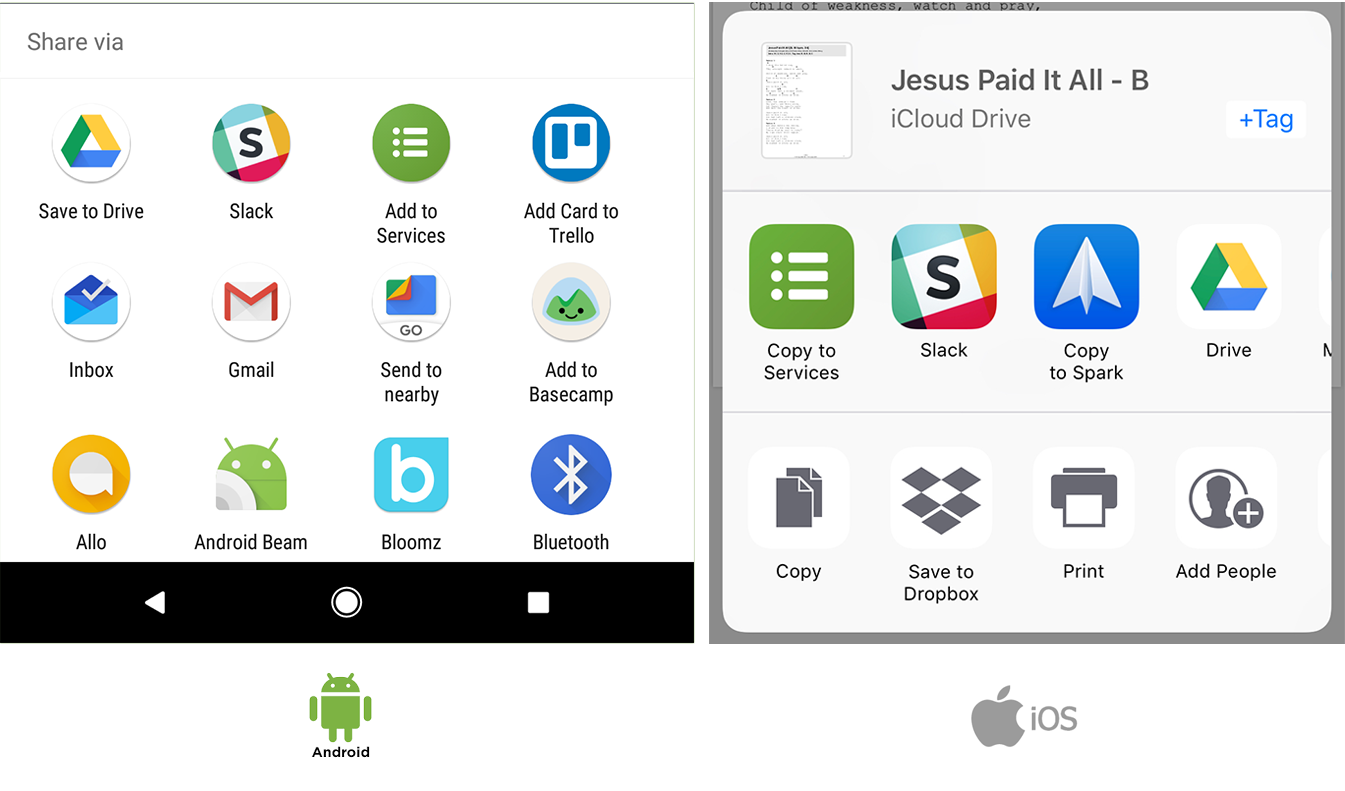 Editing or Deleting Files
Any file that is directly attached or linked can be edited (to change the file name) or deleted. To edit or delete a file, tap the More button on Android, or swipe left on iOS.
In this version (3.5), PDFs created on the web using the Lyrics & Chords feature are not editable since those aren't technically files. But the good news is that mobile Lyrics & Chords editing will be added soon, in version 3.6!