You asked for a winter coat for Christmas, but you didn't want to miss out on prime coat-wearing season, so you opened it a month ago. That's kind of what happened with our new Media pages and player. Now that Christmas is basically here, it's time to officially introduce them, even though you've probably already seen them. But don't worry, we've put an extra special gift in your stocking that we've saved as a surprise until now! I guess you will just have to keep reading to find out what it is 😊
New Design
First, we completely updated the design of the new media pages to match our new Song and Profile pages.
Text Documents
There's a new file type in town, and his name is Doc Text. He's not an official doctor, but he can help you make text documents that can be formatted & updated right from within Services. Most anything you might have uploaded previously as a Word Document can instead be created as a Text Document attached to Media, and it will be downloadable as a PDF, or even editable online.
This could work well for message outlines, drama scripts, or any other type of document you might want to share from your account.
From a media page, click to add a file, and choose the new Text Document tab. Your document will be available as a PDF download anywhere you link to this Media, but you have an additional option. If you check the box at the bottom to "Import to Item Details," when you link an item in a plan to this media, the formatted text will import to that Item's details. This allows you to make changes to your text that just apply to this one plan.
More & Better Previews
We've always allowed previewing most audio and video files from within Services, but we're now allowing you to preview images and even PDF files. If you want to see what a file is, you don't have to download it anymore, just click it. That's because we've also changed the default action when clicking on files to be the preview action when it's available. You can still download files using the download button that shows when you hover over a file or at the top right of the file preview, or by hitting the D key when you are hovering over a file name.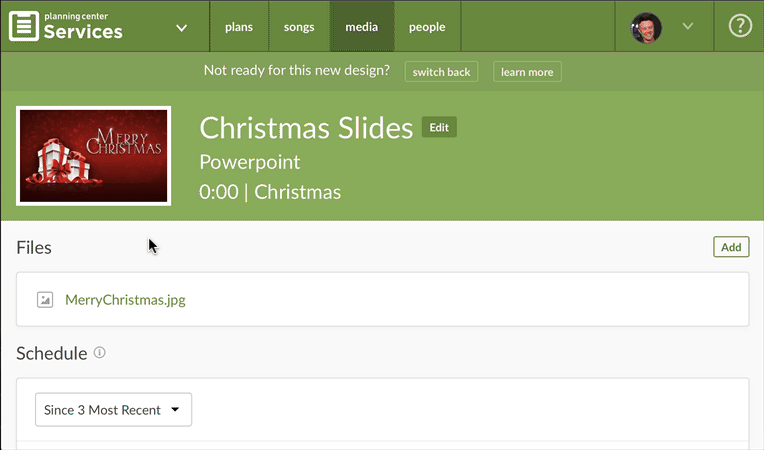 We also decided to double the resolution on new images and videos you upload to make sure your previews look sharper on any screen.
Doubled File Space
Your Services account includes a limited amount of file space. Many people don't even know this because the amount included has generally been more than enough. If you do reach your limit, you can enable extra file storage for a small fee.
Over time, files have gotten bigger, and more people are finding out about those file storage limits. We'd like to keep that a non-issue for as long as possible, so we've made two changes. First, file previews don't count towards your file space usage anymore, meaning all file previews are free!
Second, it's finally time for your stocking-stuffer surprise. We're doubling the amount of space you get when enabling extra file storage, and if you're on one of our newer per-team-member pricing packages, we're doubling the amount of space included! For example, if you're on the "50 Team Members" package with 2 GB of file space, you now have 4GB of file space. If you are using 1GB of extra file storage, instead of $2 a month, it's now only $1, so be on the lookout for your next bill to be cheaper!
Auto Archive
Some media is specific to a date, like announcement slides or message notes. You know after the service passes you won't be using that media again. When you create or edit media, you can now set a date to automatically archive your media, to keep your media library current and clean.
'Twas the night after Christmas and in PCO
Your Christmas Eve slides have dissolved into snow
But no need to fret, they decided to hide
Because you planned ahead, setting auto archive.
Plan Media Player
And now for the bow on top, we've also updated the main plan Media Player. The biggest change is that it doesn't use Adobe Flash, meaning it doesn't require installing a plug-in or keeping it up to date, and that it will run on its own in any modern web browser. We've also added file skipping, allowing you to uncheck any file to have it skipped in your playlist. It will also remember which files you want to skip for the future, which will even sync with new versions of our iOS & Android apps releasing at the beginning of next year!
The new media player squeezes the existing content on the plan page instead of covering it up, so you can work and listen at the same time. In addition, when you upload new audio files, if they have embedded album art, that will now be processed and show up at the top of the Media Player.
Beta Through January
The old media page and Flash Media Player are still available, and will be through January of 2017. Sometime at the beginning of February we'll be turning off the old versions, so give the new ones a try before then so you have some time to report anything you might find. If you do find anything, just click the ? at the top right of your screen to send us an email.