Hello friends!
I'm Kin, one of the developers here at Planning Center. If you find a bug in Android Services or Music Stand, definitely send an email to support. Make sure to mention that it's probably Kin's fault. 😉
The key to Planning Center is love. We love our churches (you), we love our team (us), and we love our products (who doesn't?). I'm here to walk you through one of the ways we love on our team: Retreat week! (AKA the best week of the year). Six whole days of non-stop collaboration, celebration, and fun.
Part of loving employees is making sure that our multi-timezone teams are firing on all cylinders. We invest heavily in our team by flying each and every remote employee (we're up to 21 now!) out to our Carlsbad, CA offices for "Remote Week" every quarter. We believe that regular opportunities to spend time face to face and back to back in the trenches with each other is essential to the Planning Center way. If you take a spin through the office, you'll hear endless laughter, furious discussion about the best way to tackle a tough problem, raucous cheers from a jungle pong game, and sizzling street tacos on the grill (since you're here, you can take a shot at the record*). Using a cliche: we shoot for a true work family around here.
Retreat Week is at the end of the last Remote Week of the year. We have an extra big all-staff meeting and then we go do something special. The all-staff meeting might sound boring, but we're not a normal company. Many of us actually look forward to this meeting. Weird. The product managers take turns presenting the state of their apps and teams. Our hearts brighten remembering the features built, the good times had. We then take a look at the future of the products and company... But I'm probably not allowed to tell you about that... Maybe it has something to do with a few job openings? Throughout the presentations, we were delighted see all sorts of fresh, new swag for us. We even got socks this year!
Since this year is the company's 10-year anniversary, we decided to pull out the stops to do something particularly special. On Thursday morning, we all hopped on a plane headed to Austin, TX for a weekend at the very cool Travaasa resort. Travaasa is an experiential adventure resort, nestled in the heart of Texas Hill Country, with gorgeous views of rolling green hills above the pristine waters of Travis Lake. After a bumpy bus ride and a few attempts to get working keys, we settled in to get some rest, hang out in the lounge, or relax in the hot tub.
The next morning after breakfast, we split into 3 teams for some good, old-fashioned competition. Rotating between three activities, we had the chance to earn tokens. One token for every ride on the harrowing Giant Swing, 15 tokens per completed Lego structure, and one token for every successful lassoing of the friendliest plastic cow you'll ever meet. Congratulations to Team Lime for wiping up the stables with the other teams, but we'll get you next time.
The afternoon was split into separate activities. Everyone chose one. By evening, our team gained seasoned farm hands, peerless apple-piercing archers, burgeoning high-wire walkers, and some very proficient hatchet throwers. Between activities, there was ample opportunity to explore the Travaasa grounds. Or take a nap. Naps were pretty popular.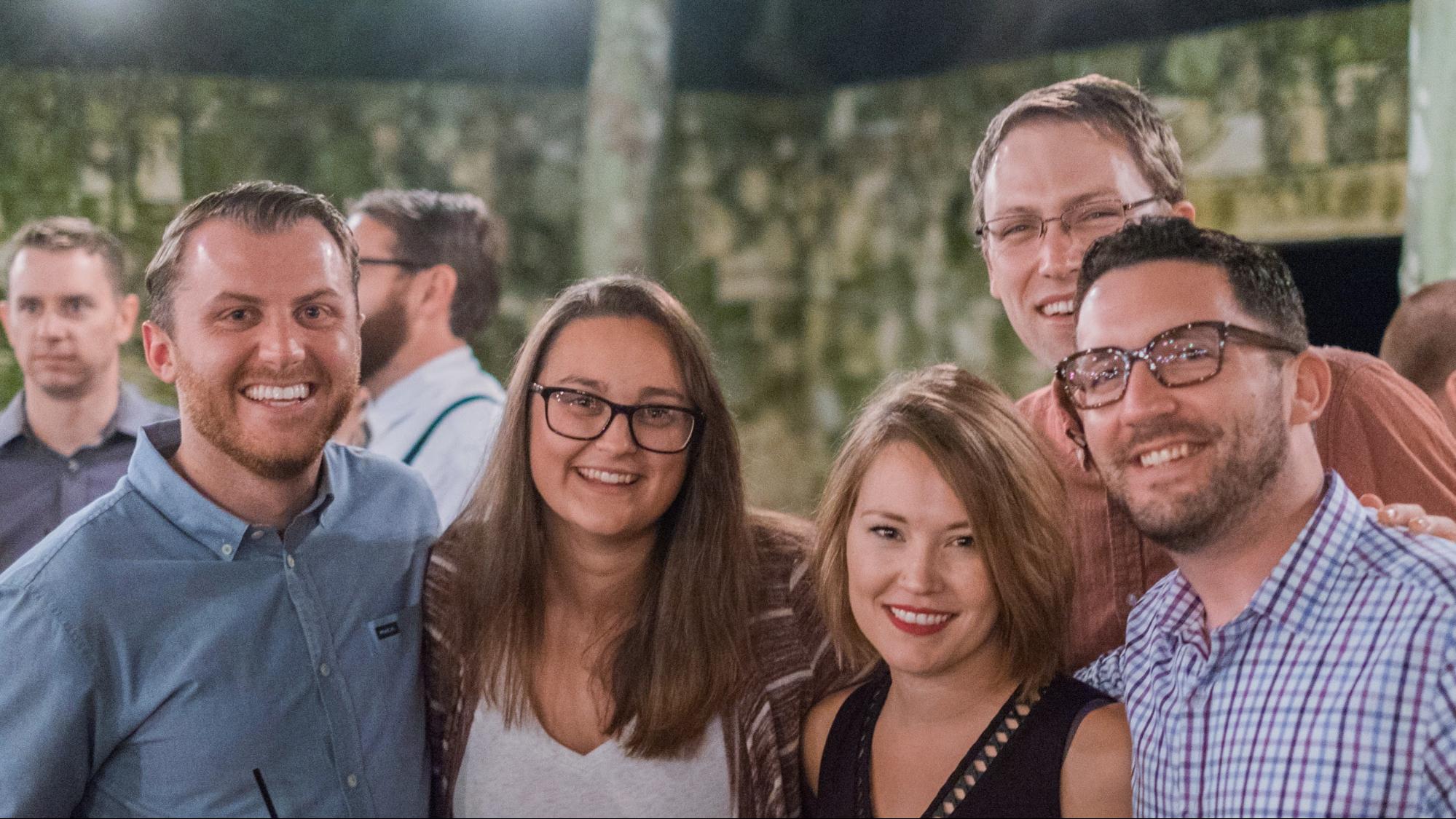 For dinner, we all made our way to the tranquil Solidago Gardens, a little off the beaten path on the Travaasa grounds. After ducking through a stone arch, we found ourselves in a mysterious new world. Surrounded by weathered stone walls lit by the soft golden glow of strands of light bulbs, we left our worries behind for a night of delicious Hawaiian-inspired food, dancing, and karaoke. Did I mention our team is full of incredibly talented people? You'd be surprised at the number of jaw-dropping vocal performances a software company can put out in a single night.
The following day came sad time, where sleepy, partied-out product managers, designers, developers, and support agents dragged their bodies and bags onto the busses for the ride to the airport. After many hugs and farewells, we said goodbye to our remote friends as we scattered back to our homes throughout the country. A week to remember, a team to treasure. We are all truly thankful for the gift given to us by our beloved leader.
Speaking of our leader, I almost forgot the coolest part of the week.
At the conclusion of the year-end all-staff meeting I mentioned above, Jeff Berg, the man who started it all, takes the stage. Granted, this is about the fifth or sixth time he's been up there, but this time, his words take on a different tone, more somber.
"In my life, what I've found, is a lot of the charitable organizations that we partner with really help to ground me. Planning Center is doing cool stuff, but Samaritan Aviation, yesterday, flew somewhere, saved someone's life, and flew back...I believe it's a honor and privilege for us to go out and experience these things." - Jeff Berg, Planning Center CEO
He then laid out a challenge: take a trip used to help people in need, and 5 of those days off don't count as vacation days.
This is Jeff Berg. Words cannot describe how big his heart is. His heart drives our passion to build awesome apps. His heart brings the team together on each Remote trip. And his heart leads us to serve others outside of our normal routines. I am proud to be a part of Jeff's vision and I strive to share some of it with those around me.
*There is some dispute on the actual street taco record. 23 single tortilla tacos were consumed by Skylar and Kin, while Robert put away 21 double tortilla tacos. We may never know the truth.