New Planning Center users are often surprised by how easy it is to get started. They might anticipate a long sales process, followed by a long (and expensive) setup process, followed by days of training (pay for that too!).
But we do things differently. We believe that churches are best served when you, the church leader, are equipped with the knowledge, the tools, and the help to get started with Planning Center.
We want to see you succeed, this is how we help.
The Knowledge
Our Knowledge Base is a vast library of articles and videos to get you up to speed on every topic ranging from the basic concepts to the nitty gritty. We work hard to keep everything up to date, and update it nearly every day. When someone asks us a question that isn't already answered in our knowledge base, we think of that the same way we'd think of a bug in our software and take steps to correct it.
The Tools
You usually have some data that you'll want to bring along with you into your new account. Data imports can be complicated, so we've spent tons of time making our data import tool powerful and easy to use. It is easy to understand, provides usable feedback, and warns you of potential problems ahead of time so that you can get your account started on the right foot.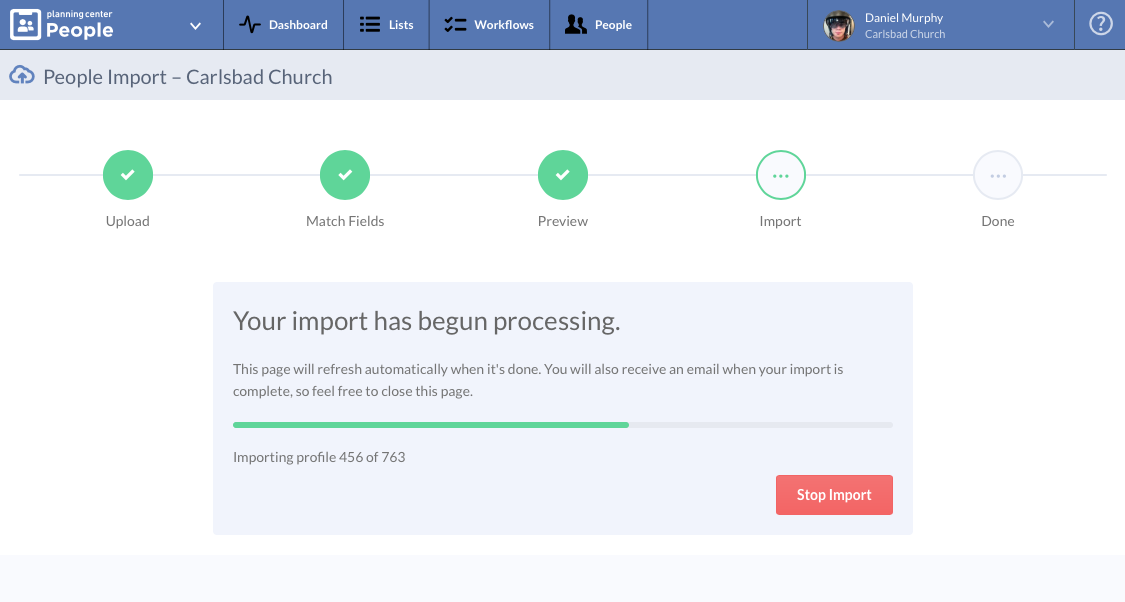 Here's a sampling of features that make our CSV import tool the best in the world:
It looks nice! — Importing data can be kind of boring, but at least it doesn't have to look it. Shouldn't the first thing you do with your shiny new software be just as great to work with as the rest of it?

Previews — Now you can see the profiles that will be created or updated, and exactly what they'll look like when the import is done, giving you a chance to make corrections before getting too far.

Helpful warnings — It's easy to accidentally have one bit of misformatted data somewhere in a CSV file and not even realize it until way too late. To prevent this, the importer checks every bit of data before importing it, and if it's not valid, will give you a chance to correct it.

Work in steps — If you need to make changes to your CSV file, you can upload a new version at any point without losing your progress.

Undo — No matter how careful you are, we all make mistakes. So we've built an undo feature! You can undo all the the changes made by your import, fix your CSV file, and try again. No harm, no foul!
"The People import tool is one of the best I have ever used (and I have done IT/systems for years)." - Dave, Campbell CA
Check out our documentation for more details about how to import data with our CSV import tool.
The Help
Our support team is here for you! Questions can be broad ("How can my church keep track of first time visitors?"), very specific ("How do I edit this custom field?"), or you just need help ("I can't log in."), and our support team will be happy to help you.
We're ready to answer questions from 6:00 am to 5:00 pm every weekday, and 4:00 am to 2:00 pm on Sundays (all times Pacific). The support team is currently 13 members strong and lives in every time zone from Eastern to Pacific. They'll almost always get you an answer within an hour of writing in.
Don't believe me? Here's what some people have recently said about our support team:
"Quick service and the problem is completely taken care of. Thanks."

"Perfect! Exactly what I needed!"

"Thank you, you helped me clear a lot of things up that allowed me to figure some other stuff on my own, I appreciate your help...."

"Thanks for your quick help! I appreciate that your response was more than a scripted fix. Your personal attention to my case was obvious and thoughtful."
And those are just from the last couple of days.
So if you're still on the fence about getting started, what are you waiting for? We're here to help at any time, even during your 30-day free trial.