For the past 7 years, I worked for a large enterprise company writing website code. It was a pretty good gig and I was content with my career. I could have easily continued on that career path for the rest of my life. But I'm so glad I didn't.
A year ago I started attending a local tech talk called Full Stack. It has a diverse and interesting group of people talking about a wide spectrum of web technologies. The meetups happen monthly and over the last year, I got to know the people attending and the hosting company, Ministry Centered Technologies (makers of Planning Center Online). Their interest in evolving technologies, their passion for the craft and the talent of their staff was apparent from the get go. So when a position opened up, I did some research to learn more about the company. What I found was an amazingly crafted suite of products that helps churches run more efficiently. Beautiful applications tailored specifically to help with the day-to-day needs of churches. After talking it over with my family, I decided to go outside my comfort zone and apply. Thankfully, I was offered a position and started work the beginning of October.
Two months in and I can already tell this is going to be a wonderful journey.
We love our churches. I mean really love them. PCO's mission isn't about getting as many customers as we can or selling as much software as possible. In fact, we don't even have a sales department. What we do have is a support team dedicated to answering questions, taking feature requests and providing guidance on how churches can be more successful using PCO, a team of crazy talented developers collaborating to provide the most well crafted software possible, a design team focused on real world usability to ensure you're an expert from day one in our software, project managers who listen to you as the customer and focus every day on making our products better and most importantly, a leadership team who truly care about our people, products, and churches.
As a way to reflect on what PCO accomplished in 2015, we escaped from the offices and ventured off on a company retreat. The team of 46 employees boarded a bus and traveled 2 hours north to enjoy a delicious candlelit dinner aboard the Queen Mary.
We were surprised with the entertainment of a murder mystery while we dined. Lots of laughs and inside jokes were shared as the mystery unraveled and the perpetrator was brought to justice. We finished the night taking silly group pictures with an Amigo Booth.
The next morning was a sea of mustard as we grouped up in the lobby wearing our matching sweatshirts. Universal Studios was our destination for the day. For the next few hours, we were given a behind-the-scenes tour of old movie sets and a few surprise rides. They explained how special effects worked, gave us a tour of their prop warehouse and we got to walk on to a live set of an upcoming sitcom (Uncle Buck). As the bus tour concluded, we grouped back up and set out to experience all that Universal had to offer.
From the Jurassic Park log ride to the 3D Simpsons simulation our group managed to hit nearly every ride in the park before it was time for lunch. With such an action packed morning we were all looking forward to some food. Lunch was incredible. One of the best buffets many of us have ever had. With crab legs and lobster risotto, there was something for everyone. We finished the meal with coffee and sweets as we set off to see the Waterworld stunt show.
We had great seats as the performers soaked the crowds and got everyone cheering. Pyrotechnics were aplenty as speed boats zipped by and people flipped off platforms 40' above the water below. While the story unfolded, we were all cheering for the good guy and booing the bad guy. The show finished with a wonderful finale and we stayed behind to meet some of the actors and get another behind-the-scenes tour of the show. We finally said goodbye to our tour guides as the let us loose to explore the park. Our group divided up and did some shopping, watched some more shows and hit every ride in the park. As the sun was setting, we all met back up at Samba Brazilian Steakhouse. For the next few hours, we enjoyed each others company as we ate a delicious meal to finish out the night.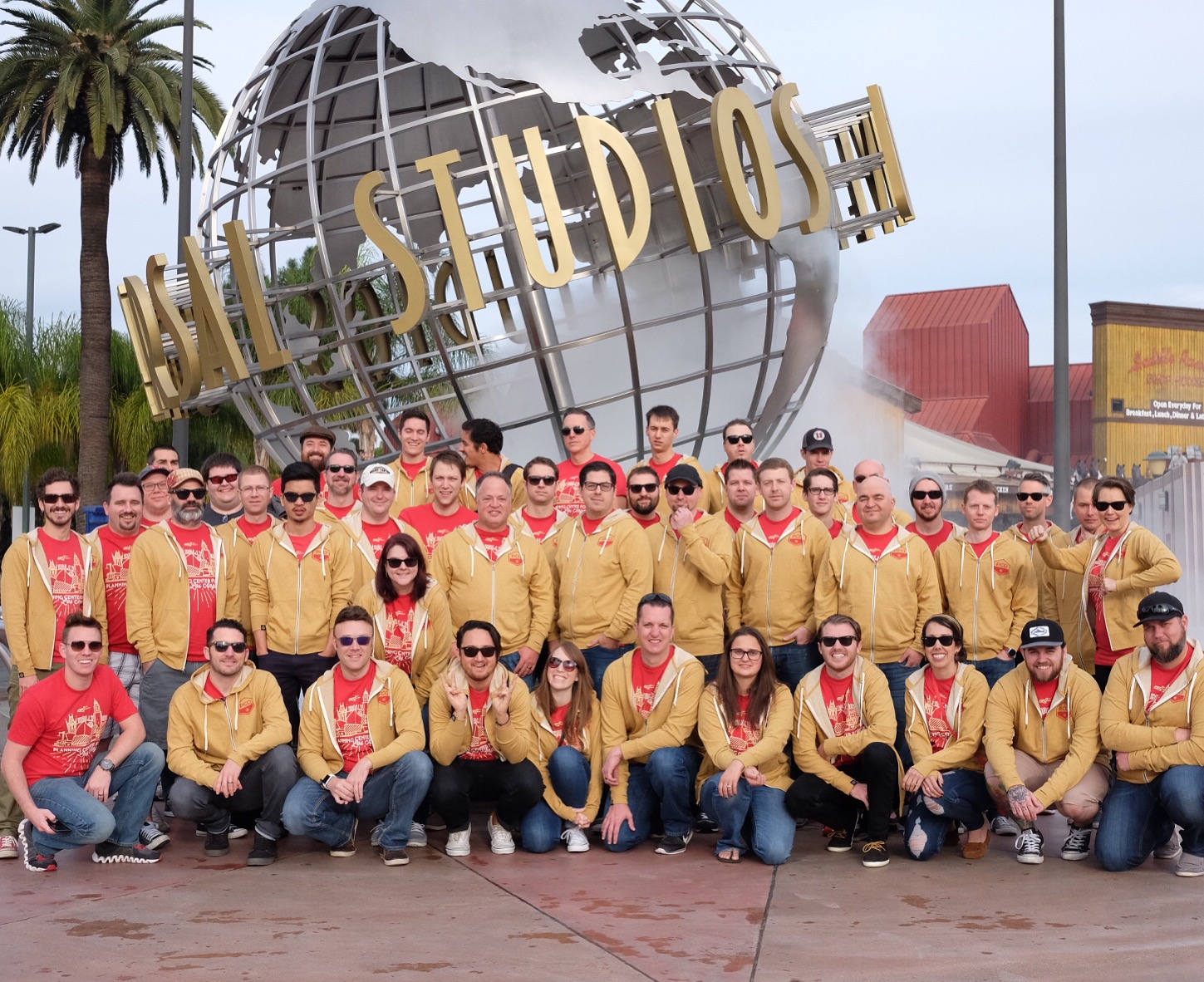 On the final day of the retreat, we gathered in a conference room to review all the hard work that was done in 2015. It's amazing what was accomplished by the team over the last year. Support answered over 55,000 tickets. Developers committed thousands of lines of code and everyone cheered as we reflected on the launch of three new awesome products to the PCO suite: Registrations, People and Giving. Leadership talked about the lessons we learned this year and the company's mission for the next. We concluded this year's retreat with lots of hugs and high-fives as everyone was reenergized from what we accomplished and where we're going.
2016 is going to be a fantastic year for PCO as we continue to do everything we can to help churches succeed.