We're working to continue improving Check-Ins! Check out some of the newer features we've just released.
Guest Check-In
One of the biggest days for guests to visit is coming just around the corner… Easter! In preparation for the big weekend, we've added a new One-Time Guest option. When added, these people will not be saved in your main people database, but they will get a simple label with their name, medical notes, and the same security code of the household. Check out our article on Checking In One-Time Guests to find out more!
Keyboard shortcuts
Sunday mornings are hectic. So, one of our largest goals is to make sure Check-Ins is as quick as possible. With that in mind, we've now made it even faster! If you're using a non-touch device such as a laptop, you can now ditch the mouse and work lightning-fast with our shortcut keys. Check them out on our Keyboard Shortcuts article.
Update in time logic
We're getting smarter about how Check-Ins is automatically choosing the time. In most cases, it picks the closest time to when they are checking in. However, there's a couple other smart things we're doing with times, that you can check out on our Times Logic article.
Reports, now with less pages
You've spoken, we've listened. With some large reports, the amount of pages were getting quite out of hand… literally! So, we've tightened up the reports so much that you can fit almost twice the amount of information on one page than before. Try it out!
Before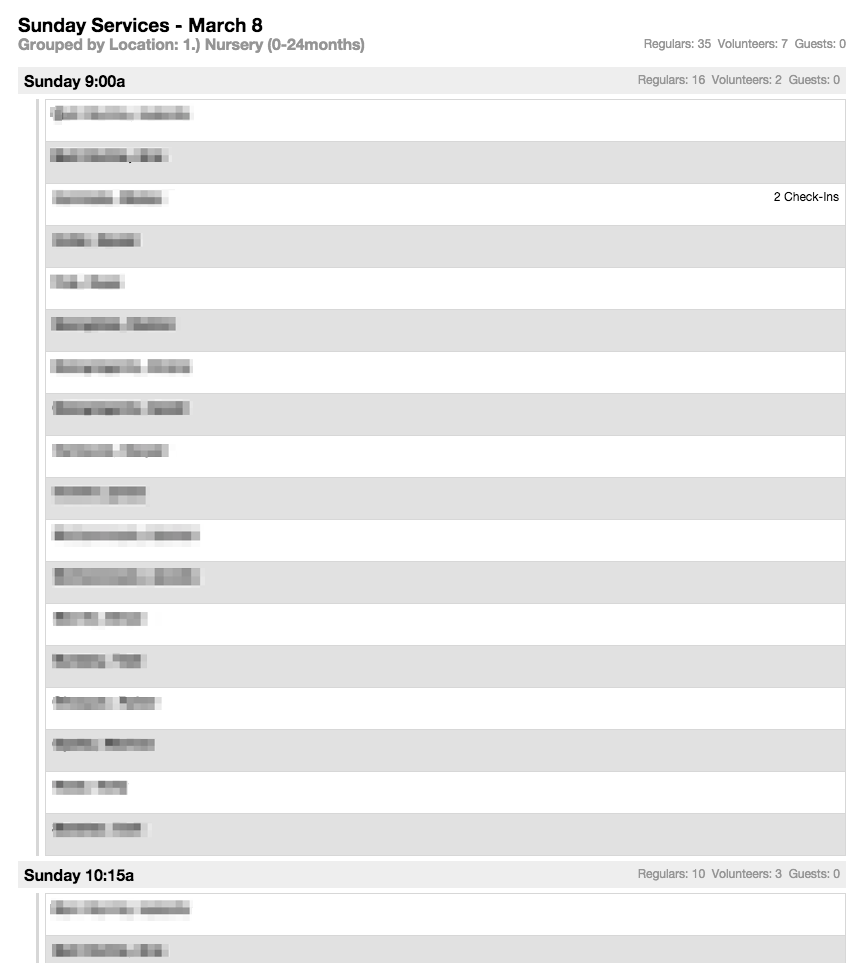 After
We've got a few other exciting features in the works, so stay tuned!
Scott, Robert, and Jake - The Check-Ins team