Last year we updated the calendar and tag system, simplifying scheduling and categorizing events by making it easier to find events in the bigger picture of the church calendar. Now we are bringing that same simplicity to managing the details of events with the complete redesign of the new Event page!
A few weeks ago, we released this page as an open beta and starting today, we are rolling out the change to every organization that hasn't already opted in. By February 7th, everyone will have the new page.

These changes do adjust your workflow, but rather than adding steps to your routine, we removed a few to make it faster and more straightforward.

You can manage details from a single page, rather than diving layers deep to finish your task as you did previously. Every important piece of the management puzzle is either immediately visible or easy to find after a click or two, without ever leaving the page.

So what does this mean for your routine?
Faster booking for rooms and resources
Requesting and approving rooms and resources are some of the core features of Resources, and they are even easier on the new Events page. Booking rooms and resources is now as simple as typing the name into a search box or browsing through a list of all your options.
Like the color-coding on the master calendar, the approval status of each room or resource is easily visible. You can also expand the section to see the approval details, as well as any notes, questions, or setup selections.
There's also no more waiting for your changes to update or requests to be made. Before you save your changes, we'll give you a chance to review your selections to make sure you're happy with them before automatically sending off approval requests.
Easy-to-find schedule
Just like putting a date on your Google or iCal calendar, creating an event starts by putting it on the master calendar, then building on it with details.
But most calendars don't also provide an easy way to outline the schedule of an event—to track things like setup, teardown, or sessions within an event. With Resources, however, the schedule is covered within the event. Schedule-ception, if you will.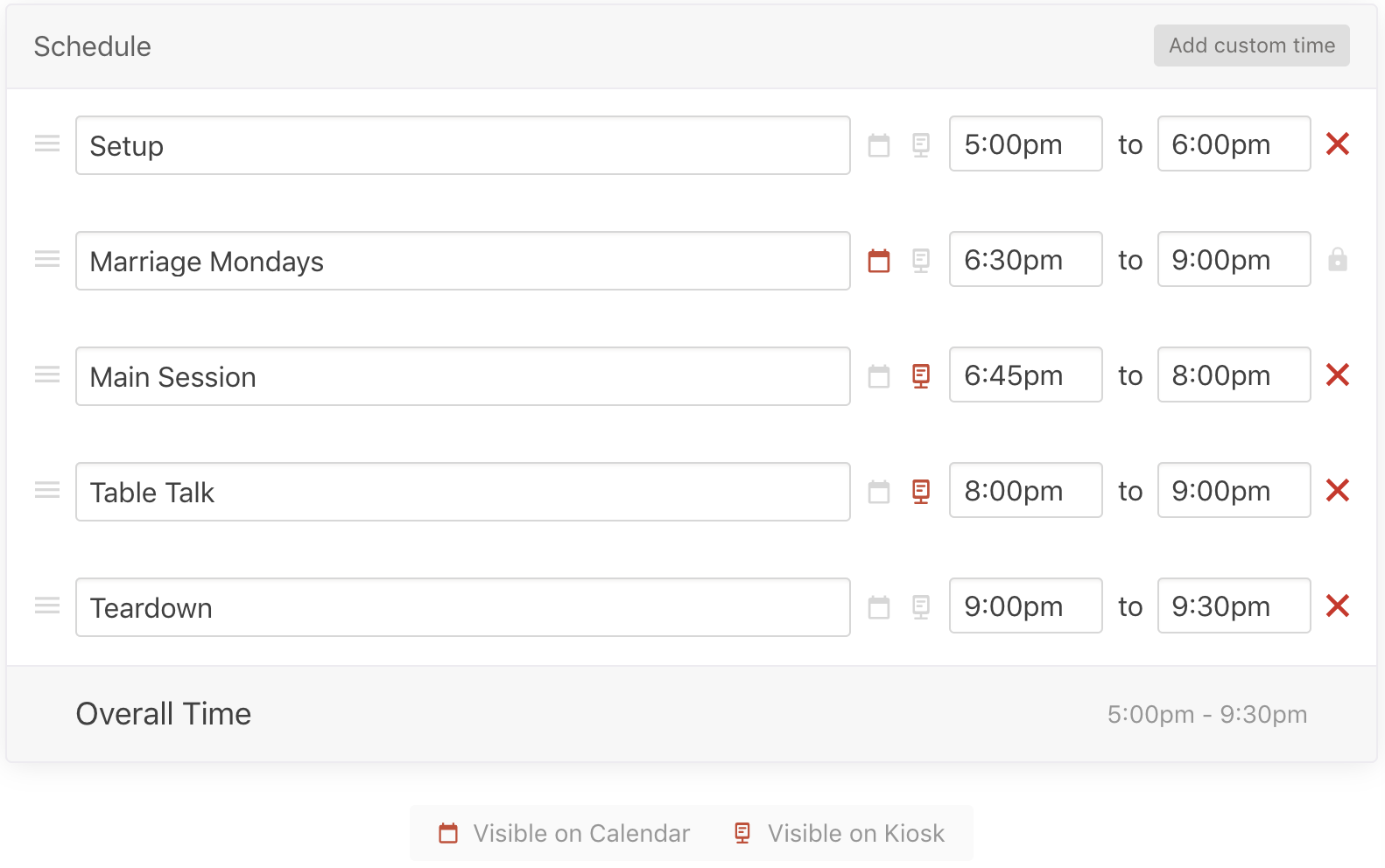 These times are incredibly important for sharing information and coordination behind-the-scenes, and now it's easy to find on the Events page.
Here you add setup or teardown times, create your own custom times, and specify whether or not these items show up on your shared calendars and kiosks for congregants.
Finding the big picture
All the actionable information for scheduling and booking, as well as dates and tags, is front-and-center on the Events page. The Activity and Details tabs, on the other hand, hold the event context of how decisions are made and the overall goal and purpose of the event.

For the Activity tab, your digital paper trail of conversations and changes, you can filter to find exactly the information you're looking for, the results are simply in a nice clean list.

In the Details tab, you'll find high-level information, like the public event description and any important notes and documents for your internal team. Here it's easier for teams to reference when they need a clearer understanding of the event as a whole, not just the mechanics.
From there it's an easy click back to the Overview tab and all the information you need to get work done!

This Event page is both a finish line and a starting point for Resources. It built on the work we started with the calendar and tags, and sets the product up for new features and updates to even better support you in managing your church calendar.

It's been so encouraging for us to receive such a positive response from our beta users, and we're inspired to further improve it with your suggestions!

As you start exploring the new layout, be sure to check out all our updated documentation for step-by-step instructions and reach out to our support team with any questions.

You'll be hearing from us soon—it gets even better.