May has been an exciting and productive month for the Check-Ins team! We fixed a few bugs and released some highly requested features. We've also been working on some larger features that we're excited to share with you at a later date :). Check out what's new below!
Check Out By
When you're checking out people by name, you'll now see a new "Check out by" option. Whoever you select as the "Check out by" person will appear in the admin side in the check-in details, as well as an option you can include in reports.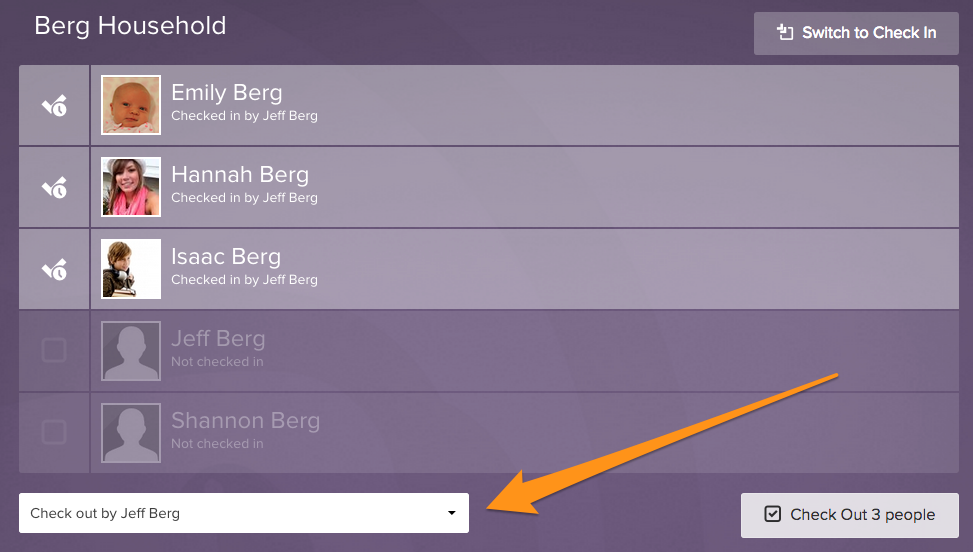 Hide Barcode Scanner
You now have the ability to hide the scanner image to the right of self check-in stations. When editing or creating a new station you'll see an option to "show scanner image on right." See our Hide Scanner Image article for more details.
Household Editing
Creating new households has been improved on the admin side. Now this experience is easy and consistent through all of our apps. From the people tab, click on a person and navigate to the personal section. There, you'll see a new look with profile pictures and edit buttons next to each household.
New Accounts switcher
If you have accounts for multiple churches, you'll love that you can now switch between them easily from within Check-Ins. We plan on adding this account switcher to the rest of our app lineup in the coming months.
With this new design the help button is easier to find, and when you click your name you're able to switch accounts, access your profile, and log out.
Free Weeks!
One of the many benefits of working at Planning Center is that a few times a year, our team has "free weeks" to make, create, and design anything they'd like. Some really fun things have come out of free weeks such as a chat room integration to let us know when coffee is ready, an app that can control our entertainment systems, and an internal dashboard to let us know how our apps are performing. More often than not, a really good idea comes out of free weeks and makes its way into our applications.
Improved PDF Preview
Earlier this month we had two free weeks, and the technology used to preview PDFs in the new Chord Chart Editor for PCO Services was also adapted for our Check-Ins report previewer. Previously, we generated an HTML preview which might have lined up differently than the PDF and show page breaks improperly. Now, PDF previews appear exactly how they will look when downloaded.
Phone Number Login
For another April free week project, our owner, Jeff Berg, wrote an exciting new way to log in to Planning Center Online. You can now use your mobile phone number! And, if you've forgotten your password, you can have a password reset link texted to your mobile number!
Dymo and Google Chrome
If you use Google Chrome with a Dymo printer, you may have seen that Chrome will soon stop supporting NPAPI plugins, which is what we use to connect printers with Check-Ins. There are a few more steps you'll need to take to get Chrome working again. However, Chrome will permanently stop supporting NPAPI plugins this coming September.
What are we going to do about it, you ask? Unfortunately, this issue is out of our control as it is a problem with the way Dymo printers communicate with Chrome. The good news is that Dymo is working on a fix which is projected to be released before Chrome permanently drops NPAPI support in September. We're watching this closely, and we'll make sure to communicate any updates.
Scott, Robert, Jake, and Jesse - The Check-Ins Team.