Over the last month or so we've released some smaller and medium-sized new features, and it's time we detailed them together in one place. The biggest thing is that when you add new arrangements or keys to your songs, you have a lot more options, including the ability to import SongSelect and PraiseCharts files for the main key and alternate keys! We've also given you a new way to link to your shared plans, and made some visual tweaks to make it easier to see split teams and temporary positions. Plus there are great new updates of Music Stand and Services for Android. And in case you didn't see it, we also just announced a huge new version of Projector, our portable presentation app.
Adding Arrangements & Keys
When you add a new song to your songs page, you get options to input lots of information about that song. Until now, when you added additional arrangements or keys to that song later, you got minimal options.
So, we've added all of those options and more when you add arrangements and keys to save you time and simplify that process.

First of all, when adding arrangements you can specify length, bpm, meter, and required tags. When adding arrangements or keys, you can specify they key, key description, and add alternate keys.

The coolest new part about adding arrangements and keys is that we've added SongSelect and PraiseCharts import to that process. If you have either of those integrations enabled, you'll see options for importing those files. Not only does it import the files in your main key, it will also import files for any alternate keys you choose. If you know you need a capo version for your guitarist, you can just add it as an alternate key and the file is imported right when you add the arrangement or key.
Importing PraiseCharts files while creating new arrangements and keys is a simplified version of our full PraiseCharts importer. Instead of seeing all files that PraiseCharts offers for that song, you'll only see files that you've already purchased. In addition, you won't have options for which files to import, it will automatically import all your purchased arrangement files, and all files for the key and alternate keys you are adding. With a single click, you'll get everything you need!
We're also bringing most of this new functionality to our iOS and Android apps, too! We're still working on the iOS update (we had to finish Projector 2.0), but if you're on Android, you'll be pleased to know your update is available now!
Services for Android 2.11
The biggest new feature for Services for Android is the ability to add and edit arrangements and keys. Like the web, you have the option of adding alternate keys and even selecting to import SongSelect files. We'll even import your SongSelect files for alternate keys! (Importing PraiseCharts purchases is more complex and isn't a part of this update.)

We've also redesigned the plan item screen and the song and arrangement screens. Instead of a long page that almost always requires scrolling, the details are shown in tabs at the bottom. Switch between tabs to see extra information like linked songs, files and other details.
Finally, we've added a great new Services Schedule widget. Add the widget to your homescreen to see your upcoming schedule, and tap a date to go directly into that plan in the Services app.
Sharing with Permalinks
We're expanding the ways you get to your plans. At the top right of the plan page is the existing share button with options to share your worship set on Twitter or Facebook, and to make a public view of your plan that anyone can get to even without a PCO login. What's new is the Permalink button inside the sharing options.
Permalinks are dynamic links that take you to a different page depending on the date you click it and the way it's setup. If you want a simple link that always directs people to your most recent service, use a permalink. You'll get one link you can use forever, and avoid changing the link every week to point to the right plan. You can use Permalinks for public plans (once you enable them), private plans (if you're only sharing the link with people who have PCO logins), or even Services LIVE (if you have a computer at your sound booth that you always want to boot up to the live version of this week's plan).
Visual Indicators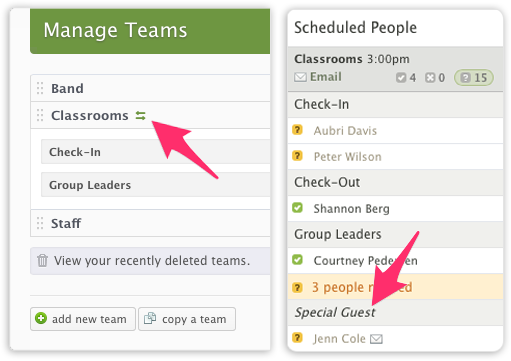 We've made 2 small visual changes to bring clarity to your teams and positions. If you are using Split Teams, you'll now see a Split Team icon next to any team name when you are editing your teams. Second, if you are using temporary positions, those will be styled in italics.
What are temporary positions? Well, when you schedule people, you can choose from your predefined positions, or you can type something from scratch for one-time use. We generally don't recommend using temporary positions, but now if you are using them accidentally and can't figure out why it's not working like you expect, you'll see it in italics and know that something is different.
Music Stand for Android 3.6
Finally, we've just released a minor new version of Music Stand for Android. It now includes support for saving multiple logins to make switching between accounts easier. We've also improved its file management capabilities so you can choose how much space to use for saved PDFs or choose to delete individual files. And lastly, you can now view the songs sidebar when you're not in a plan and search for songs from the top of the songs sidebar.
To keep up with all the latest news for PCO Services, follow PCOServices on Facebook or Twitter. For the latest news on all our apps, including Check-Ins, Resources, & Registrations, follow PlanningCenter on Facebook, Twitter, or Instagram